Main Content
Our Mission
The Jordan B. Band brings Christian hope to the homeless and imprisoned by delivering God's Word through original, Christian contemporary music and speech. Invite us to perform at your shelter, prison, correctional center, TV station or special Christian event.
---
We Are Waiting On You
We perform out of Christian charity. Absolutely no fee or honorarium is requested. Our uplifting, Christian non-denominational program requires only:
basic electric
shelter from the elements
performance area roughly 20' by 15'
within the Greater Atlanta area
Press Coverage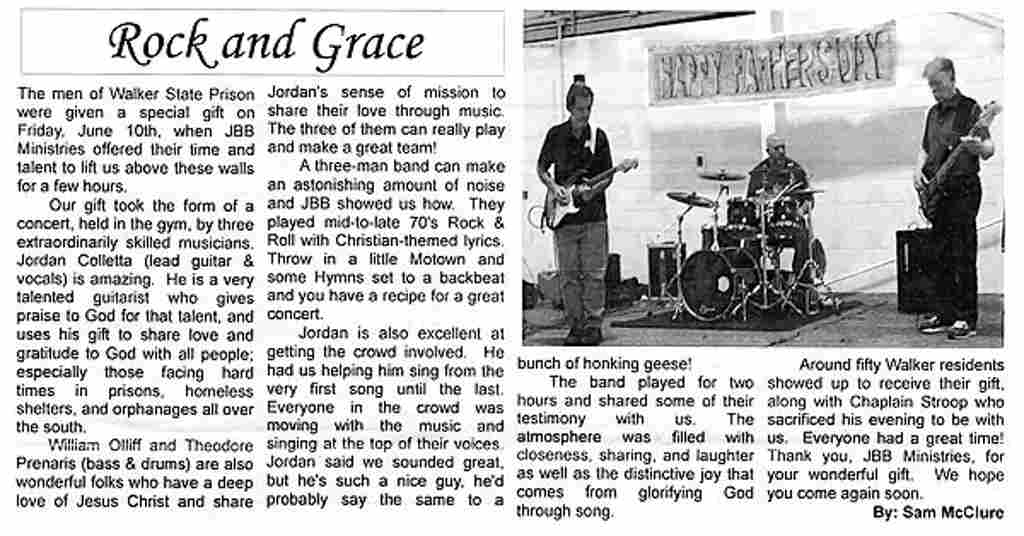 We love promotion! Help us reach our brothers and sisters suffering homelessness and imprisonment.
Who is Jordan B?
Jordan Colletta is a singer, songwriter, evangelist and program host, located in Atlanta Georgia. He heads JBB Ministries and the Jordan B. Band, both of which are dedicated to bringing the Word of God to the homeless and imprisoned through original, contemporary Christian music and speech.
JBB Ministries
JBB Ministries is a volunteer organization devoted to delivering the Word of God through original, Christian contemporary music and speech to those enduring hardship.
---
Jordan B. Band
We are volunteers with a passion for music and spreading the Word of the Lord. Initially (2001), we were featured at a Walk Thru the Bible workshop. Later, we began performing at the Central Presbyterian Men's Homeless Shelter. Over the years, the Jordan B. Band has grown to include over a dozen musicians performing regularly as a trio.
Notes from Home
Notes from Home is a showcase of Christian singer / songwriters performing their best original work. Join Jordan B. and his guests as their inspiring gifts are offered on this regularly produced series. Enjoy our videos at your convenience and connect with us too!
Father of Mercy
You alone are the Almighty Judge knowing the just and offering forgiveness to the unjust. Precious Lord – our true refuge is only in You, Your kingdom our true home. Give us patience and hope in our sufferings. Let us trust in Jesus Christ, with repentant hearts, to live in hope. Amen